Olivia Deeble
is a actor who plays
Tamara
on little lunch.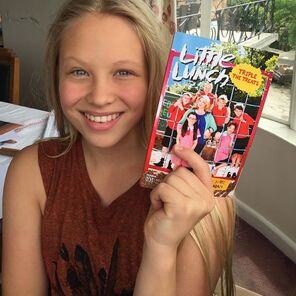 Acting career
Edit
Olivia Deeble also stars on Home and Away, as Raffy Morrison. Olivia made her first appearance on the 19th of September 2016 and her casting was announced on the 31st of August that year and further details were released tens days before her first episode aired. She has relocated to Melbourne to continue filming as she has a three year contract with Home and Away. 
She was just three years old when she was featured in the film You and Your Stupid Mate. She then booked a part in the 2006 film Five Moments of Infidelity.
She attended ballet and jazz classes and earned accolades as well as solos in the school's concerts. She modeled for the fashion line Tahlia in 2014.
Her grandparents are actor Reg Gorman and actress Judith Roberts. Her mother is Kate Gorman from Neighbours.
As an adolescent, she was featured in the -starring film You and Your Stupid Mate. 
Ad blocker interference detected!
Wikia is a free-to-use site that makes money from advertising. We have a modified experience for viewers using ad blockers

Wikia is not accessible if you've made further modifications. Remove the custom ad blocker rule(s) and the page will load as expected.