Little Lunch is an Australian children's mockumentary comedy television series that first aired on ABC3 in 2015 (Channel now known as ABCME). The 26-part, 15 minute series is based on the books written by Danny Katz and illustrated by Mitch Vane.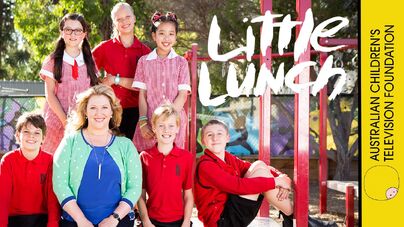 The series was adapted for television by Robyn Butler and Wayne Hope. The stories are set in the primary school playground at snack time and unfold through six children whose names are Atticus, Debra Jo, Rory, Melanie, Tamara and Battie as well as their teacher Mrs. Gonsha.  The series is filmed at St Kilda Primary School in Melbourne.
Two additional specials were filmed and screened in 2016: The Halloween Horror Story and The Nightmare Before Graduation.
Little Lunch doesn't talk down to its audience and it brings the children (and adults) along for the humorous triumphs and blunders that the characters face. 
At under 15 minutes long, each episode covers one issue succinctly, such as, is it acceptable to dress up as a character you invented yourself for book week? Perfect for watching over afternoon tea after school!
"The best new Australian television show this year is Little Lunch, the ABC3 mockumentary about life in a primary school playground that packs smart scenarios, clever interplay and dexterous performances into episodes a mere 15 minutes long" — Sydney Morning Herald
"an absolute joy... beautifully drawn...full of small touches that are laugh-out-loud." — The Sunday Age
"This clever adaptation of popular children's books by author and Fairfax columnist Danny Katz transposes his stories of what goes down at recess — "little lunch" — among a group of grade-5 kids into a mockumentary format. Produced by the brilliant creators of The Librarians and Upper Middle Bogan, Robyn Butler and Wayne Hope, each episode is 15 minutes long, like recess itself, and the perfect length for these sharply written vignettes executed by six talented child actors. The self-contained episodes focus on the big playground issues of the day — whose turn it is on the monkey bars, which kid is in the principal's office (it's usually Rory), schoolyard loyalties and the like – told from different children's points of view. The after-school timeslot should not be a deterrent for adults. The overarching themes of friendship, tussling with authority and anxiety are relatable for all of us."
— The Age
Ad blocker interference detected!
Wikia is a free-to-use site that makes money from advertising. We have a modified experience for viewers using ad blockers

Wikia is not accessible if you've made further modifications. Remove the custom ad blocker rule(s) and the page will load as expected.